If you are using drop-shipping apps in your Shopify store, and are having problems with the shipping not being calculated correctly or the shipping rules being combined or doubled, it could be a multi-location problem.
If are not using drop-shipping apps and you have multiple warehouses, you may want to check out our help center guide about multiple locations or for more detail, our blog post about using multiple locations. If you are only using drop-shipping apps and a single store location, please read on!
When you install a drop-shipping app on your store, the app usually installs its own 'app location' as well. This can cause issues if you are also shipping your own products, or using multiple drop-shipping apps, as there will be more than one location installed.
The reason for this is when Shopify sends a shipping request with multiple locations, they do it in parts. One part for each location, and each part contains only the products for that location, with no information that it is part of a bigger order.
The problem with that is if you have a "Free over $50" shipping rule. And the customer's total order is over $50. But each product is from a different location, then each shipping request for the location parts will be under $50, and that Free over $50 rule will never get triggered.
The fix for this when using drop-shipping app is to change the product location of all of your drop-shipping products to your default store location.
Drop-shipping apps do not use their app location feature that is installed on your store, so it is ok to change that location to your store's default location. We have never seen it affect the drop-shipping app. However (as all apps are different), if you want to be sure about that, you can always contact your drop-shipping app support and ask them if they use their 'shopify app location' and if it is ok to change it.
There are a couple of ways to change the product inventory location of your drop-shipping app products.
The first is to go through one by one in your ShopifyAdmin->Product page, scroll down to the inventory section, click 'edit locations' and change the location to your store's default location.
The second option is to use Shopify's Bulk Editor. Shopify have a guide with a video how to change the locations using their bulk editor.
Changing your products one by one: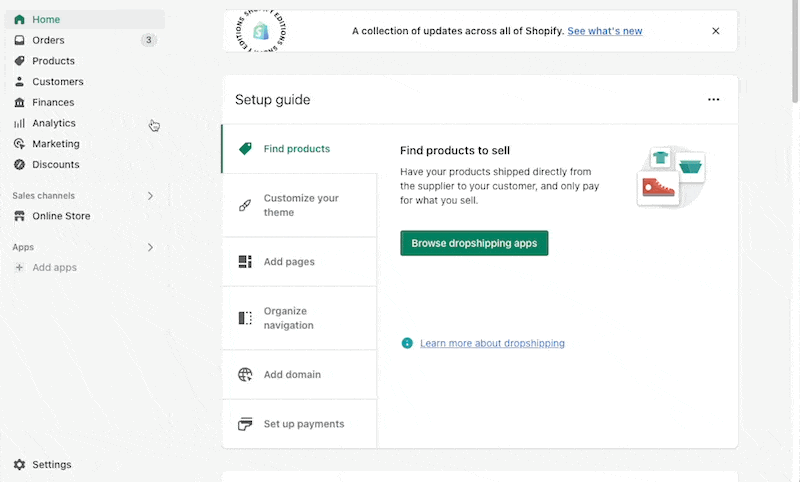 We usually suggest you change a couple of items first by hand, and then do a test order on your store to make sure the shipping is coming out as you expect. If that test works out, you can go ahead and use the bulk editor to change all of your stores products to your stores default location. Once all products come from a single location, the shipping should calculate correctly.
If you have any questions or get stuck, please contact us at better.shipping@atomyard.com or from our website. We are always happy to hear from you and help out.
Better Shipping is available on the Shopify App Store.