If you are getting multiple shipping prices at checkout that you don't want, you may have some default Shopify shipping services setup for your shipping zones.
To check this, you can head over to your ShopifyAdmin->Settings->Shipping and delivery->General->Manage page, and under the Shipping Zones section, in the relevant shipping zone (e.g. "Domestic") check to see if you have multiple services. The Better Shipping service is called "Better Shipping App rate estimates". If you have any other services either from shopify or another app or carrier, then multiple rates will appear as options at checkout for your customers.
So if you want to use Better Shipping exclusively, and have only one option at checkout, you must delete the other shipping services from your shipping zone, and leave only the "Better Shipping App rate estimates".
To do this, click the "Edit" button next to the relevant shipping zone.

Then under each section, check if there are any shipping zones, and if there are, click on the "X" button to delete them. Make sure you do not delete the "Better Shipping App rate estimates". Once you have checked all of the sections, click the blue "Save" button in the top right.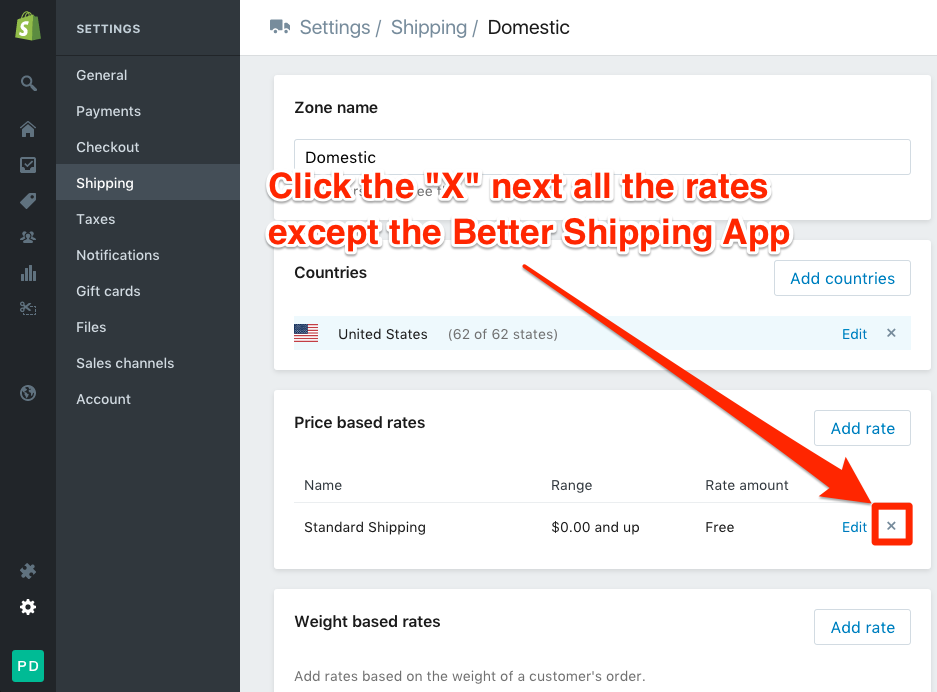 You can then go and do another test order to confirm the app is working as you expect. If your test order is still not working, you can email us and we can help you out!