If you have multiple warehouses and need to track inventory across the warehouses, and are having trouble with the shipping rates on shopify not calculating correctly, or doubling or being combined wrongly, then you may want to consider Shopify's single origin shipping mode.
Note if you are using drop-shipping apps, or are unsure whether this is the right feature to enable, we have a help center guide to help you choose. Or for a more detailed explanation we have a blog article about multiple locations with single origin shipping.
If you want to proceed and enable single origin shipping on your store, please read on. We also have the same steps on our blog if you would prefer.
Before you start, when you enable single origin mode:
Shopify will clear and remove all of your current shipping zones and shipping rates in your store. You will need to recreate them once the feature is enabled.
Your store will experience downtime while you recreate your shipping zones. Customers will not be able to checkout until you recreate your shipping zones and add shipping rates
Shopify's Local Pickup feature will not be available
Shopify's Local Delivery will still work
General Shipping Profile only. You won't be able to use custom shipping profiles
Inventory tracking still works the same using Shopify location priority
You can always change back to multi-origin mode.
1. Record your shipping zones and shipping rates
As your shipping zones and rates will be cleared when you first enable single origin mode, we recommend you record your current set up before you start. That will also allow you to minimise downtime when you recreate your shipping zones and rates, as you will know exactly what to remake.
Make sure to look at both the shipping 'Your rates' tab and the 'Carrier and app rates' tab if you have both types added to a shipping zone.

2. Contact Shopify support
Go to the shopify support page and contact Shopify support.
Ask them to enable the single origin shipping feature.
(when I asked them, they said local delivery and pickup would be disabled. Only Local Pickup is disabled, Local Delivery still works).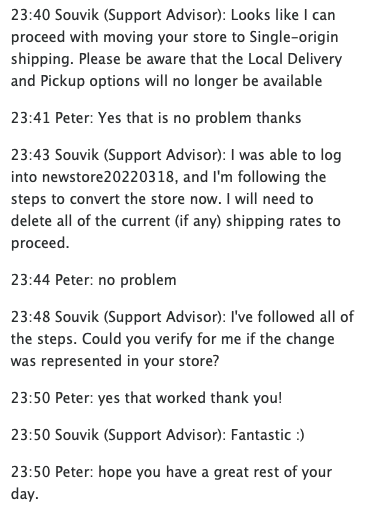 3. Recreate your shipping zones and shipping rates
Once enabled, you can go into your ShopifyAdmin->Settings->Shipping and delivery->General->Manage settings and recreate your shipping zones. And then add your shipping rates to the shipping zones. Don't forget to add the Better Shipping app as a carrier so the Better Shipping app can generate rates at checkout.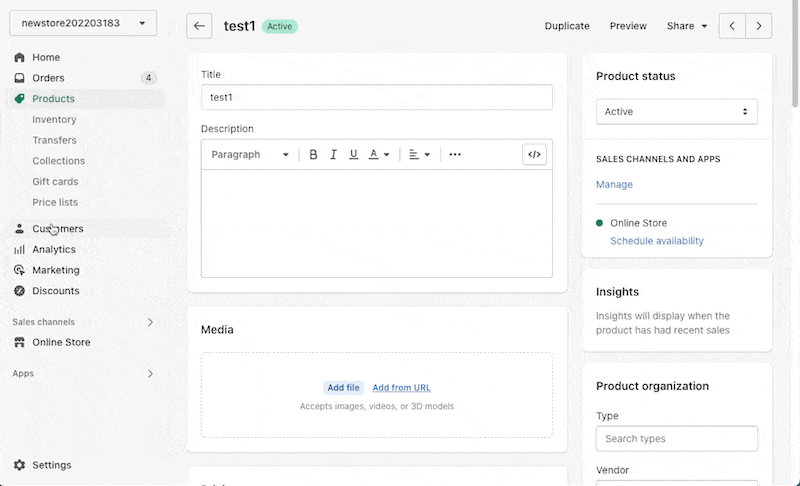 4. Test your store
If you test your store, you should see the shipping rates being generated at checkout, and their calculations should now use the correct rules, even when products come from different locations. It is also a good idea to check the inventory is being managed the way you expect as well.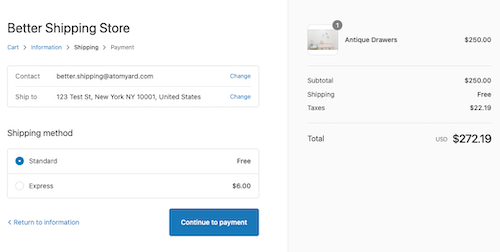 If you are unsure about anything or have a different scenario, please contact us at better.shipping@atomyard.com or from our website. We are always happy to help!
Better Shipping is available on the Shopify App Store.