Who is this page for?
If you are a brand-new customer to Better Shipping, then you can skip this help page. This help page is for Better Shipping customers who have been using the original version 1 of Better Shipping and have used the "Conversion Tool" in the Better Shipping settings to convert from Version 1 to Version 2. This help page is intended to let you know the differences in the two versions and get you up and running in the shortest time!
The Better Shipping "Shipping Rates" page
The main page of Better Shipping is now the "Shipping Rates" page. If you have converted, you will likely already have some Shipping Rates populated in the list. These are your Shipping rates from version 1. During the conversion, we have automatically set up the new Version 2 of the app to behave the exact same way your Version 1 was working.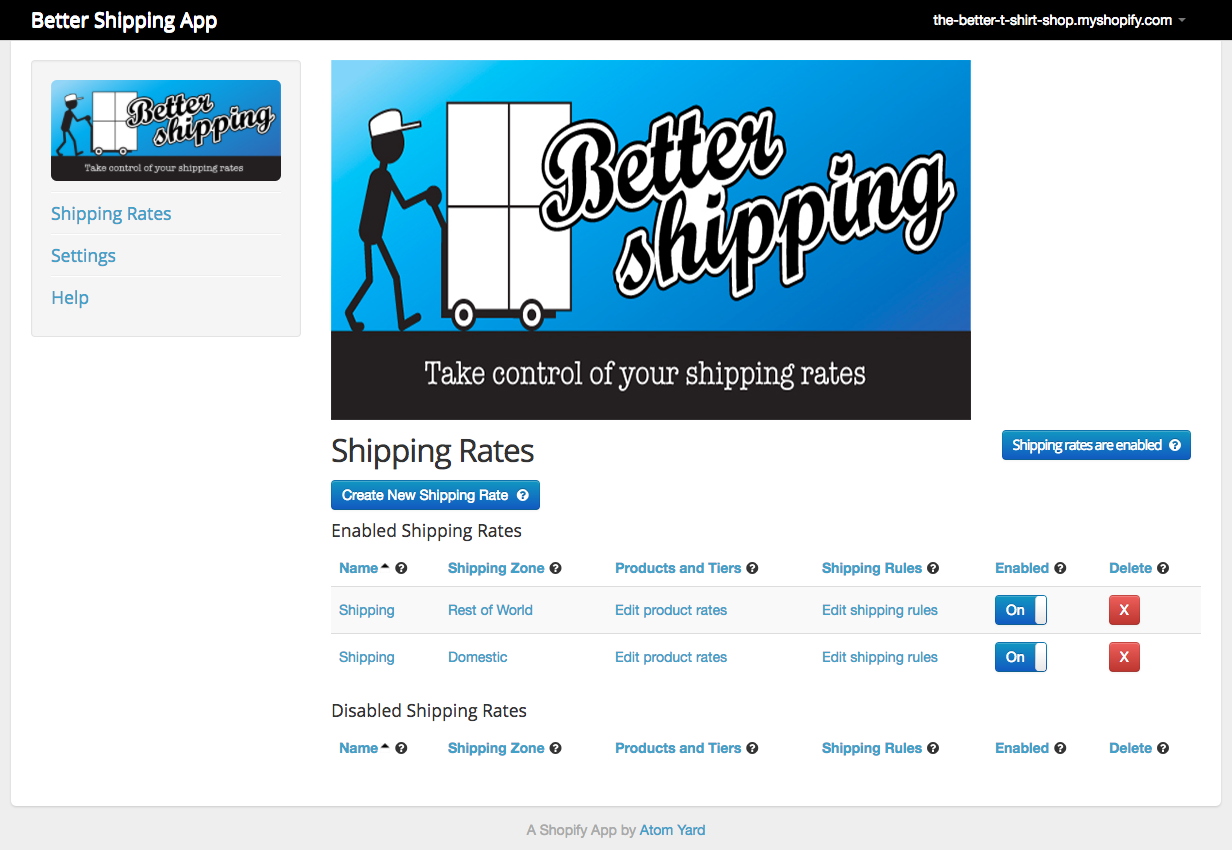 You may also notice that you have multiple shipping rates. This is because the new version 2 is organized using your Shopify Shipping Zones (in your ShopifyAdmin->Settings->Shipping and delivery->General->Manage page). You will have a Better Shipping "Shipping Rate" for each of your Shopify "Shipping Zones".
This is because you can now have separate 'sets' of per product rates, zip code delivery areas, and shipping rules, for each of your Shopify "Shipping Zones". The old way in Version 1 was you could only have a single 'set' of product rates which were used for all shipping zones. This is one of the biggest and fundamental changes to Version 2 of the app!
For example, in the screenshot above, I have two shipping rates (both with the name "Shipping"). You can see in the "Shipping Zones" column in the screenshot, that they are for each of the shipping zones in my Shopify Shipping Zone Settings in your ShopifyAdmin->Settings->Shipping and delivery->General->Manage (My Shopify Shipping Zones are in the screenshot below).

This means that I can edit each of the Better Shipping rates, and have separate per product rates for my Domestic shipping zone and my Rest of world shipping zone.
For example, if I was selling t-shirts and shipping the t-shirts $2 per shirt locally, with free shipping over $50, but I need to ship them for $10 per shirt internationally with no free shipping, this is now as easy as setting the Domestic shipping rates to $2 and the free over $50 rule, and the Rest of World shipping rate to $10 only.
This is the main change from Version 1. Think of it as a whole Better Shipping app for each of the Shipping Zones!
All the other new features, such as updated exclude zip code rules, and more shipping rules options can be explored on the other help pages. If you have just converted over, please run through the Intro help page, to get up and running with the new updated app!
As always with a new update and few features, we design everything to work for the majority of shipping cases, however, if you experience problems, please don't hesitate to contact us at better.shipping@atomyard.com, so we can help you out!