What is the Bulk Update Tool?
The Bulk Update Tool allows you to select large amounts of your products by vendor, type or collection, and then change the shipping values for the selected products.
This is useful when you have a large collection of items which ship for the same price. You can set all of the products in one go. The Bulk Update tool will only affect products in the current shipping rate you are editing.
One important thing to note about the Bulk Update tool. If your selection of products contains any products that are disabled in Better Shipping, the disabled products won't be updated, unless you enabled them first. You can use the Bulk Update Tool to enable your products, which will update the disabled products. But the price, skip shipping and tiered groups will not be updated on disabled products.
How to use the Bulk Update Tool
In this section you will be walked through how to use the Bulk Update Tool
The Bulk Update Tool works in 4 steps:
Step 1
The first step is to choose how you want to select your products. There are 4 choices.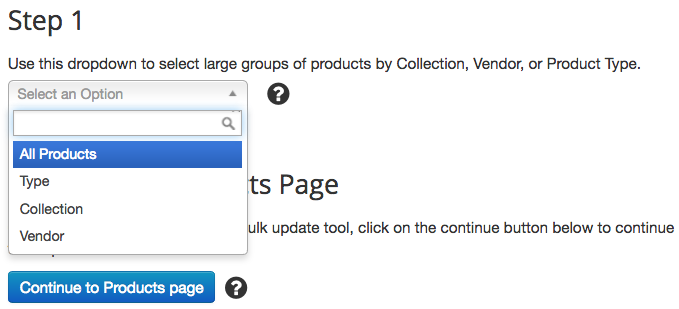 All Products will select every product in your store. This is useful if you want to enable or disable all of your products for this rate, or if your products all ship for the same price.
Type uses the Product Type field which is set in your Products page in your Shopify Admin.
Vendor uses the Product Vendor field which is set in your Products page in your Shopify Admin
Collection uses the collections you have created on your Collections page in your Shopify Admin. It will select every product that is within that collection.
All of these options can be set on the Products page in your Shopify Admin in each of your products on the "Organization" box on the right hand side.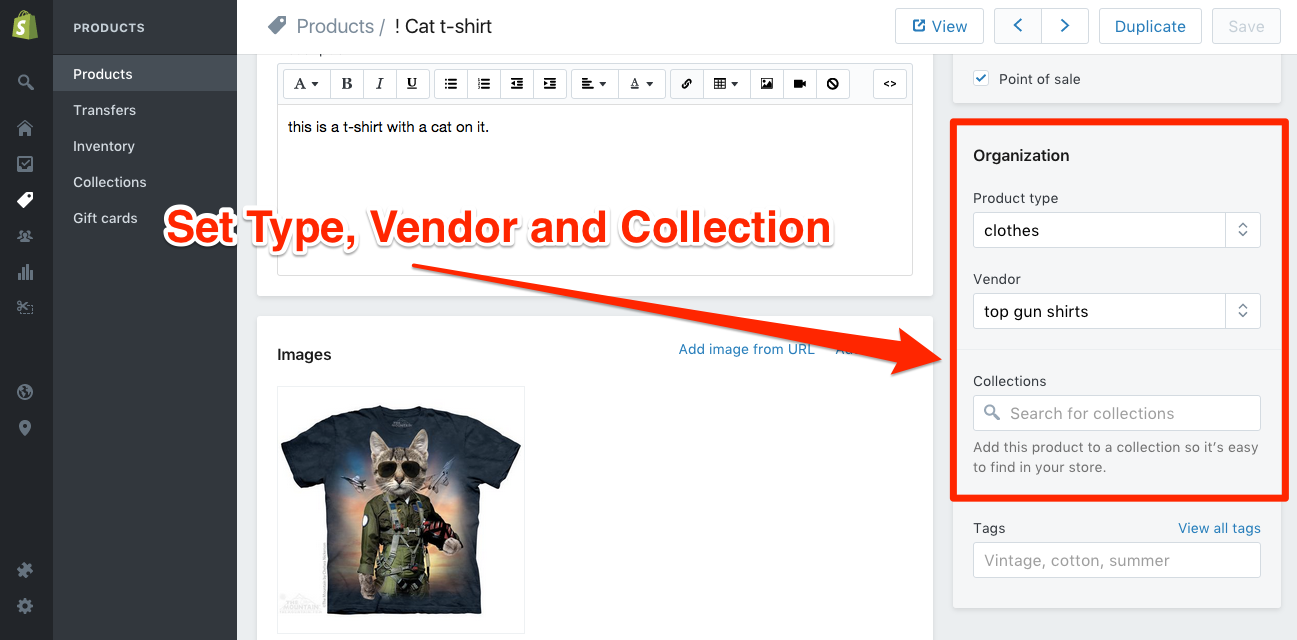 Step 2
In Step 2, you will choose the value from Step 1. For example, if you chose "Type" in Step 1, you can choose which type in Step 2. In our example, we have a "clothes" type, which we will use to select all of our products with the same "clothes" type for bulk update.
Note that if you selected "All Products" in Step 1, you don't need to select anything in Step 2, just move on to Step 3.

Step 3
Step 3 is where you set you product price and options. All products in the group selected in steps 1 and 2 will be changed to the price and settings you set in this step.
The product rate price and options are exactly what you see on the "Product Rates" page of the app. The "?" tooltip have brief descriptions of each of the fields and usually include an example. However, if you need more information about a particular field, you can find it on the Product Rates Help page.
Once you have set each field to the value you want your products to be changed to, you can continue to Step 4

Step 4
Once you have selected the products you want to change using step 1 and step 2, and you have chosen what you want to update using step 3, you can run the Bulk Update use the "Update Products" button in step 4. Clicking on the "Update Products" button will make all of the changes you have selected, overwriting your selected products with the new settings.
Clicking "Update Products" will start an update task in the background of the app. Depending on how many products you have chosen to update it may take some time. The page will refresh every minite until the update is complete. You are free to manually refresh the page at any time to check as well. Once completed, you are free to run another bulk update task if you wish, or continue to step 4.

Continue to Products Page
Once you have finished with the Bulk Update Tool, you can click on the "Continue to Products Page" button to be taken back to your products page where you can see the changes you have just made, and make any fine tune adjustments.
If you have any issues, please email us at better.shipping@atomyard.com, we are always happy to help.